okay, so i didn't keep my promise to post more often - but i'm trying! knitting keeps getting in the way. and singing. and life in general.
i have a few FO's that turned out rather nice - tell you what, we'll make a deal. starting today, i will post something everyday to get this blog going once and for all. i'm changing the title of this post from something even less original to "day 1". (no, i won't tell you what it was. i would be embarrassed. maybe i thought of this posting-thing just to hide that title from you. nah, okay, i didn't. do you know why? because i'm more lazy than embarrassment-prone.)
annnnnnyway... i joined two KALs in september, a loosely organized one on ravelry to do the celtic knot stole and a really very pretty, interesting and exciting one, the mystery stole 4 kal, which i both love. but i have to admit, i like the ms4 more because - it's a mystery. and i love surprises, especially nice ones.
i'm doing the celtic knot in a navy laceweight 50:50 silk/wool blend and the ms4 in a cobweb weight cashmere yarn with 15% lycra (i really don't know why i picked that, except it was the only yarn i could find that came in the colour i was hoping to get). i had the cobweb wight yarn wound double stranded so it's an untwisted 2-ply and it looks and feels great. i ordered both yarns from
colourmart
, they were quick, friendly and i think their prices are awsome. i'm impatient to be finished knitting, so i can watch the yarn bloom to full glory - their yarns are oiled for machine knitting and have to be washed to bring out their full glory. i washed the swatch and the yarn went from "nice looking and very soft" to "dreamlike". ms4 comes with beads, i swatched with different colours and setteled for black in the end - it's looking really good. will post photos tomorrow.
oh, and i ordered another yarn from colourmart, simply because i could. not. resist. i tried for two days and then i stopped trying. i was just going to post a picture, but appearantly the yarn has already sold out and then the pictures are no longer available. instead i'll post a
link
to the page where similar yarns are listed, so you can have a look and i'll show you mine as soon as it gets here. oh, and i nicked a picture of my ms4 yarn for you to drool at: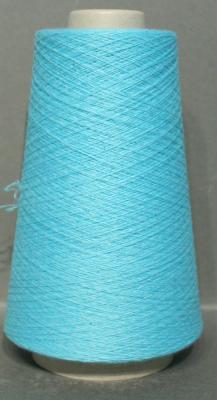 okay, so my resolution for tomorrow is getting my project pictures up on ravelry and writing another blog post, this time with my own pictures.
until we meet again - be happy.